ARTICLE BY ALEX NINO GHECIU  FOR  COMPLEX CANADA.
Originally published January 13, 2022 on Complex.com
"It's the moment Mississauga's been waiting for: AR Paisley and anders, two of the GTA city's most buzzed-about budding rap stars, have teamed up for a new single and music video, "Hunnids."
The video, directed by Brandon Kareem and produced by 88Everything, begins with Paisley getting pulled over by the police. When the officer walks up to the driver's window, Paisley starts spitting bars in his face. The disrespect! We cut to hazy, crepuscular scenes of Paisley and anders turning up and counting bills stacked in the trunks of luxury cars.
Over a melancholy, piano-based beat by Kevin Rolly, Paisley delivers an airtight, stylistically varied flow about his spot in the rap game and his unrelenting drive to keep ascending. Anders tags in late in the track with a canorous verse about how far he's come, from the trap to skipping TSA lineups at airports.
Paisley explains that "Hunnids" was spawned from an exploratory session in the studio with Rolly. He says he freestyled the majority of the track. "This song was inspired by me being in a place in my life where I was finally becoming content in making progress in my career but I haven't reached my goals yet and I'm still hungry as I was when I first started," he tells Complex Canada.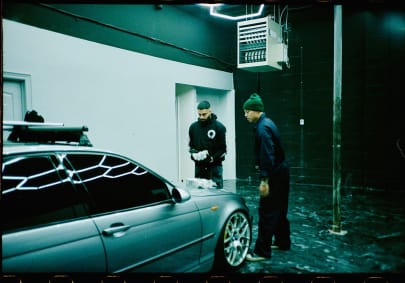 The collab between Paisley and anders has been a long time coming.
"Me and anders both being from Mississauga, there's always been a conversation about us doing something together," says Paisley. "We've gone back and forth for a couple of years now about doing a song but we hadn't found the one yet, and that's when it clicked. I realized he would sound perfect on this one. I sent it to him and within 24 hours he sent it back with a crazy verse of him rapping, which wasn't the normal sound we've been getting from him anders in the past. We both went out of our comfort zone for this song and were able to showcase our versatility. That's when I knew this song was special and I wanted to start the year with it."
"Hunnids" is the first single from AR Paisley's forthcoming album, due for release this spring. After a relatively quiet 2021 that saw him drop just four tracks and record one feature for Indian artist AP Dhillon, the Sauga MC's going for the throat this year. "This is one of the first singles off my next project that I'm currently working on, which I believe will be my best project to date," he says.
Peep the video for "Hunnids" above."